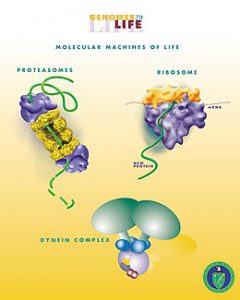 One of the latest developments in biotechnology is genetic engineering of cellular biology without the use of actual cell. This technique is termed as cell-free protein synthesis (CFPS). Chemicals, biomaterials, and medicines can be synthesized easily with this sustainable method. Cell-free systems have one major shortcoming: they cannot manufacture glycosylated proteins, that is, proteins attached to carbohydrates.
There are several biological processes involving the process of glycosylation. For the prevention and treatment of diseases, it is important to understand the reaction mechanism of glycosylation. Our main purpose is to control this process and synthesize glycosylated proteins through cell-free systems.
A team of researchers have collaborated to devise a novel approach and overcome this shortcoming. The team of researchers includes following people: Dr. Matthew DeLisa, Professor of Chemical and Biomolecular Engineering at Cornell University and Dr. Michael Jewett, associate professor of chemical and biological engineering at NorthWestern University.
They have devised a novel system by capitalizing on the recent advancements of CFPS technology. They have been successful in developing the missing glycosylated component through a simple reaction, which is carried out in "one-pot" system. After glycosylating the desired protein, it can be freeze-dried for later use. To use the protein for further synthesis, it can be reactivated by adding only water. The frozen protein would get thawed and retain back its natural properties at room temperature.
This team of researchers successfully published their paper titled "Single-pot Glycoprotein Biosynthesis Using a Cell-Free Transcription-Translation System Enriched with Glycosylation Machinery." This paper was published in the latest July issue of Nature magazine. DeLisa and Jewett are the two senior lead authors of this study.
According to DeLisa, they have been successful in devising the world's first glycosylated protein through cell-free technology. This protein could be very useful in various therapeutic areas, including the development of vaccines. This is because the protein can be freeze-dried and used in various locations, indicating the portability of these protein molecules. This is a path-breaking, powerful invention that can unshackle the existing models of manufacturing proteins.
With this technology, protein-based medicine can be easily developed and transported to remote areas. Thus, the lives of several people would be saved like never before. The cost of life-saving drugs and vaccines would decrease with this novel method of synthesis.
Local small-batch production of life-saving drugs can now be carried out in remote locations with low resources. Life-saving drugs have been costly till date; however, this technology aims to bring down the cost of these life-saving drugs. Therefore, poorer patients in remote areas can now have access to better healthcare.
DeLisa is a senior scientist who has spearheaded several research studies in biomedical eningeering. He has always focused on investigating the molecular mechanisms associated with the biogenesis of underlying proteins in a living cell.
It is important to note that the living cell is a complex environment wherein the main barrier is the cell wall. His lab has done extensive research on several living cells, such as Escherichia coli (E.coli). According to DeLisa, it is difficult to make important breakthroughs in cell synthesis as cell walls act as barriers in the transportation of materials, including proteins. The cell wall screens all the molecules before permitting them into the cell.
Jewett works at a sophisticated biomedical laboratory in NorthWestern University. A lot research studies have been conducted into advancing the technique of cell-free synthesis, that is, efforts were made to replicate the natural biomachinery outside the cell.
A collaboration between DeLisa and Jewett was nothing but fruitful in addressing their common goal: synthesis of glycosylated proteins through cell-free systems. According to Jewett, there is always a tug of war in engineering the cells of bacteria. The cell only wants to grow and survive. As a scientist, we are trying to maneuver its capability and reaction mechanisms.
To develop this novel method of synthesis, cell extracts were prepared by the team using a high quality strain of E. coli. This strain of E. coli was specifically optimized to grow in laboratory conditions.
This strain of E.Coli was termed CLM24. Key components of glycosylation were used to enrich this strain of E.Coli with high selectivity. A simple reaction scheme was used to synthesize the resultant extracts. The team has christened this synthesis process as "cell-free glycoprotein synthesis (CFGpS)"
What is the unique selling point of this method? Well, the cell-free extracts obtained by this method have the complete molecular machinery required for the synthesis and glycosylation of proteins.
Therefore, a molecular biologist has to simply include all DNA instructions required for the synthesis of a glycosylated protein in the desired form. Thus, CFGpS has completely broken the shackles of the existing cell-based method. Thanks to CFGpS method, we can now synthesize complex glycoproteins within a single day.
The further advantage of CFGpS method is the fact that it is highly modular in design; therefore, several varieties of glycoproteins can be easily prepared using a variety of diverse cell extracts. In this experiment, researchers used a lab-grown strain of E.coli for preparing cell extracts. It is important to note that E.coli is a simple cell, which cannot carry out glycosylation on it is own.
Nevertheless, we were able to develop CFGpS platform by using this simple strain of E.coli. This implies that a completely blank slate of E.coli cells could be engineered biologically to develop into a glycosylated system of desired capacity. With this method, the structure of carbohydrates can not only be controlled but also be manipulated to suit our needs.
We can synthesize highly complex glycoproteins. This was not possible till date with the existing cell-based systems. The field of personalized medicine is growing by leaps and bounds in developed countries, including the USA. This is a very attracted protocol for on-demand drug synthesis.
A simple test tube could now be used instead of a large bioreactor for drug synthesis. The whole concept of personalized medicine has received a paradigm shift with this novel method. Based on the physiology of a patient, we can now develop a unique protein molecule for drug delivery.