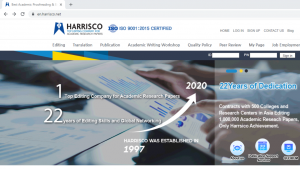 Academic editing of research papers is a highly specialized service offered by Harrisco Research Institute. Our company is based in Seoul, South Korea and has been in service since 1997. The documents that usually need editing are thesis, admission essays, research papers, journal manuscripts, books, etc.
Harrisco's clients are leading universities of Korea, which includes medical colleges and hospitals affiliated to them. Editing is a highly specialized skill, which is performed by highly qualified native English editors from the US, UK, Canada, Australia, New Zealand. They have advanced degrees (MSc/PhD) in their technical field of specialization.
An academic editor would check for errors in grammar, punctuation, logical flow of ideas, organization, and style. Academic editing also involves formatting of research papers according to a specific journal's style.
In general, medical papers are formatted according to the AMA Manual of Style. Business and engineering papers are formatted according to the Chicago Manual of Style.
Other prominent style guides are the APA, MLA, Harvard, Oxford, and Turabian style of formatting. The reference list and the citation style are always formatted according to a particular style guide. The papers are edited and submitted to leading SCI journals, which follow the system of international peer-review.
Academic editing is essential for ESL (English as Second Language) authors as they have English language issues. The intended meaning of the hypothesis and experiments are conveyed correctly by academic editors.
In Korea, the papers are first translated from Korean to English and then polished by technically qualified editors. As the editors have advanced degrees in science and technology, they have requisite subject matter expertise.
Academic editors themselves have an impressive list of publications. They have participated in academic conferences and understand the nuances of academic editing. The polished manuscript will have four important components: Abstract, Introduction, Methods, Results and Discussion.
Most journals specify that the word count of Abstract needs to be between 250 to 300 words. Thus, academic editors also do word count reduction as per instructions to authors guideline of journals. The international peer-reviewed SCI journals are from leading scientific publishers, such as Elsevier, Springer, Nature, and Wiley.
Journal editors are very strict, so the acceptance of articles depends on the quality of content. Therefore, researchers cannot afford to make mistakes in their content, especially English language errors. Harrisco has an impressive track record of 100% publication output.