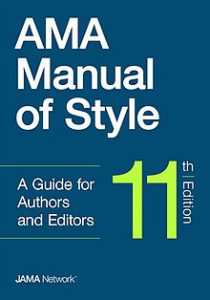 The American Medical Association's Manual of Style is a guide to authors and editors in biomedical sciences. The Journal of the American Medical Association (JAMA) has editors who have compiled this style guide for biomedical authors. Many biomedical journals are published by the American Medical Association. The AMA Manual of Style guides all biomedical authors in writing and editing their manuscripts meant for publication in these academic journals. It also has a specific citation and referencing style for use in publications.
The AMA Manual of Style was first published in the year 1962, and its 11th edition has been published in the year 2020. Not only is it beneficial for writers and editors in biology and medicine, but the book also covers a range of topics related to publication ethics and biomedical statistics. The publication committee of this book is socially active with its Twitter handle of @AMA Manual of Style. The content has included many new terminologies pertaining to the latest COVID-19 pandemic. The AMA Manual of Style is also used for writing allied health topics of nursing. It serves as a guide for writing medical and health textbooks.
The world of medical publishing has undergone a metamorphosis, and the AMA Manual of Style is updated regularly to take into account the latest medical literature. Various types of articles are published daily in medical journals, but randomized controlled trials are the most commonly used experimental study designs. The style and mechanics of presenting medical papers depend on grammar and punctuation, especially in the context of scientific publications. A general overview of genetics is also useful and it helps many novice editors in gaining knowledge of genetic coding and sequencing.
Harrisco is a noted company that organizes academic writing workshops for researchers all across the globe. In the month of December, the company plans to hold a presentation on the AMA manual of style. Come, let us learn the nuances of scientific writing and overcome the barriers of understanding experimental study design and biomedical statistics.