Academic translation services by Harrisco
Most None native researchers are not really fluent in English. They have only elementary proficiency in English as they study science and technology in their native language. Therefore, they prefer to write their scientific research papers in their own native language, such as Chinese, Japanese, Korean, French, Italian, or German. However, all ESL authors have to publish in international peer-reviewed English-language journals, because English still is the lingua franca of scientific publishing.
These researchers need the services of a professional translator who is not only bilingual but also technically qualified, with MS or PhD degrees. To address these issues, Harrisco has offered academic translation services since 1997.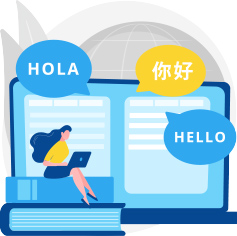 Harrisco has been the number 1 company for researchers. It has a network of 150 translators who are not just bilingual individuals with fluency in English and other languages; they also have advanced degrees in various academic fields.
Harrisco hires only those translators who have worked on academic manuscripts for the last five years. The need for academic translation services is growing, as the onus of scientific research has now shifted to ESL (English as Second Language) countries.
Now, let's understand further why academic translation services are gaining significance in scientific publishing. Some graduate students may think of getting help from bilingual friends. But will these friends really understand the scientific terminology in both the source and target language? There is much technical jargon in science, engineering, and medicine, and a professional translator is well versed in the technical terminology of both languages. This ensures that the manuscript gets translated from the source language to the target language with utmost scientific accuracy. Harrisco's academic translation services smooth the publication process of authors who are not fluent in English.
Harrisco has played a pivotal role in making researchers internationally acclaimed. Hiring a professional translator can be a daunting task for most novice researchers, but Harrisco can ensure strict quality checks and offer a complete publication package to researchers who prefer to write their manuscripts in their native language. Harrisco offers discounts to most contracted universities and research institutes, pioneering the world of scientific communications.