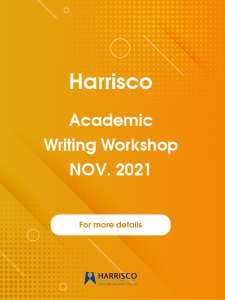 Researchers may be well versed with experiments and results, but writing an introduction and discussion is not easy in a research paper. Do you know that research grants of novice authors are based on how well crafted is the conclusion? Well, all these doubts and issues will be clarified by Professor Mario Garcia Lee in Seoul, Korea. He is a well-established researcher who has published more than 2,500 papers in international peer-reviewed journals. Come, let's understand the craft of writing scientifically, concisely, and precisely.
Harrisco's academic writing workshops are of 2 hours, 4 hours, and 8 hours duration. The registration fee is nominal at 50$, 100$, and 150 $. Not only does the speaker guide you through the mechanics of writing a scientific paper, he also teaches you to identify citations of related studies and how to present them well in your introduction section. Writing an abstract is an art as well as a skill that will be taught intensely in the academic writing workshop. Moreover, the speaker will also teach how to control the tone and diction of the content through proper word choice. Besides, citing well-known references will only increase the impact of the paper.
In an academic paper, it is not just enough to write a good abstract, introduction, and methods sections. One needs to understand that the methods section should focus on the visualization of the experiment. Moreover, the logical flow of ideas should be interesting enough to the readers and also lay the background for the presentation of results and conclusions.
The conclusion should not merely summarize the findings of the experiment, it should lay stress on the novelty of the findings and help the reviewer understand the significance of the research study. The workshops would be online webinars and would be relayed to participants through Zoom. We are offering a 10% discount to all participants that register through our marketing partners and website.